March is Women's History Month! Famous Cape Cod women include Barnstable-born,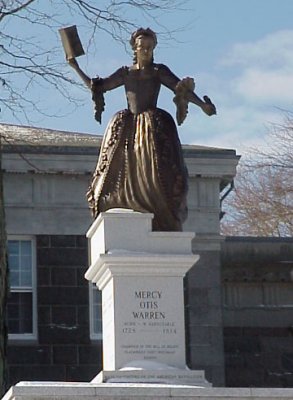 Mercy Otis Warren
, a highly influential writer and Patriot activist for the American Revolution. She is honored with a
statue
on the lawn of the Barnstable County Superior Courthouse; her portrait is currently on display in the
Art of Americas Collection
at the MFA.
Falmouth native
Katharine Lee Bates
wrote the words to one of the most famous and beloved songs in American History, America The Beautiful, in 1893. Katharine is honored by a statue in front of the Falmouth Public Library.
Cape Cod Community College has several events planned to celebrate
women's history month
, including films and
White Ribbon Day.
Most of the
events
are free and open to the public.
Visit local Cape Cod libraries for books. Then visit the
Brewster Ladies Library
on March 24 for One-Woman Play: "Yours for Humanity – Abby" with Lynne McKenney Lydick
Visit the
National Women's History Alliance
for a detailed history of Women's History month and the
National Women's Hall of Fame
for a few of the millions of women who make contributions to our society.
Up for a challenge? Test your knowledge by playing our
Famous Women in History Matching Game
!