New Years is a time to reflect on the past year, and to look forward to the new year. It is believed that New Years was first celebrated over 4000 years ago by the ancient Babylonians, in March to coincide with the spring planting of crops. Perhaps New Years is celebrated in January as a ploy to extend the Christmas Holiday break for school children... Cape Cod's biggest celebration is
First Night Chatham
, an annual tradition of celebrating the arts in Chatham on New Years Eve.
In celebration of Chatham 300, this year's New Years's theme is "
Our Town – Our Children
". With programs for kids and teens, as well as adults, First Night Chatham promises a fun, alcohol-free town-wide celebration with something for all.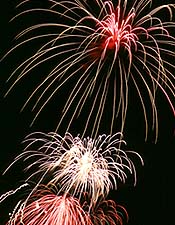 Starting early afternoon,
For Kids
activities and entertainment include Cirque du Jour, indoor miniature golf, face painting, puppets, horse and buggy rides, magicians, music, dance & song, train displays, a noise parade with early low level fireworks and much too much too mention here! Adults will want to check out the extensive list of
entertainers
including Cape Cod Opera, All-Worn-Out Jug Band, Jimmy C's Real Deal Band, Chatham Chorale, Cape Cod Symphony Brass Quintet, Saltwater Jazz and once again way too much to mention here!!! The Count Down to the New Year Cod Drop and fireworks at midnight over Oyster pond welcomes in 2013!
First Night Sandwich
offers a family-friendly, non-alcoholic community celebration of the arts and culture. Activities and entertainment including a First Night Festival Parade and Grand Finale Countdown run from 4:00 to 9:00 PM in Sandwich Village.
Those celebrating the New Year on the Island of Nantucket, will want to check out
Nantucket New Year's Calender Of Events
for events running from Saturday through Tuesday.
And of course, what is New Year's with out a list of resolutions? So, in addition to the usual slew of good intentions (lose weight, get in shape, eat healthy and drink more water, stay in touch with old friends, attend cultural events, clean the house, etc...) quickly discarded without a plan by the end of January, here's our goals for 2013...
Be kind to myself! Get a massage regularly. Get healthier, while having fun (& making a fool of myself) with exercise like Zumba! YMCA Cape Cod and several of the local dance schools offer regular Zumba classes, but for the most fun (& humiliation) participate in a charity Zumbathon!

Support local business! Help Cape Cod's economy by staying away from the chains - buy, eat and drink local! For help selecting a restaurant see our Cape Cod Dining favorites. For a local brew, try Cape Cod Beer and Cape Cod Winery. Eat more locally made ice-cream. Support local NPR radio - WCAI and WMVY.

Donate to those less fortunate! Simplify, de-clutter and organize the house at the same time. Time to part with all those unused kitchen gadgets and Tupperware containers. The kids are grown - get rid of the toy box, the VCR tapes and video games and reclaim the family room. Really clean out those closets too - who needs more than shorts, tees and flip flops on Cape Cod? When in doubt, donate! Can always support the local business and buy more later...

Purchase tickets in advance! So I make a commitment to attend cultural events instead of being disappointed when events are sold out the day before. Missed the Christmas Spectacular again this year, but Cape Cod Symphony still has 5 concerts remaining in the 2012-13 schedule. Several local theater groups perform year-round. The Cape Cod Melody Tent and the Cape Playhouse will soon be announcing their summer lineups. Make plans with friends and buy tickets early.

Expand my mind! Turn off the TV. Instead, visit the local library and check out a good book. Sign up for a class at Cape Cod Community College or the Sandwich Community School. Anyone for Ballroom Dance?

Clean the air I breathe! Encourage loved ones, friends and relatives to finally Quit Smoking!
Happy New Year! from all of us at AllCapeCod.com