Cape Cod has a most enviable talent pool of musicians, including (but by no means limited to) high school bands, town bands, rock bands,choral groups, big band swing, a professional symphony orchestra and even an American Idol finalist! Rock, jazz, blues, bluegrass, classical, country, folk are just some of the genres that can be heard year round... Join us as we listen to and support our local Cape Cod musicians.
Cape Cod's own Cape Cod Symphony Orchestra under the direction of Artistic Director and Conductor Jung-Ho Pak, takes the stage Eldredge Field in Orleans. Mark your calendar for the 24th Annual Cape Cod Five Pops in the Park concert on Saturday, August 24, 2013! "Take Off!" is the theme for the symphony's recently announced 2013/14 concert series. Performances sell out, so be sure to order tickets in advance!

Cape Cod natives, Siobhan Magnus and Fred Inkley will be performing as guest artists with the Boston Pops Esplanade Orchestra at the 28th Annual Citizens Bank Pops by the Sea concert on Sunday, August 11, 2013 on the Hyannis Village Green.

The Chatham Chorale & Chatham Chorale Chamber Singers, now heading into their 43rd season, have presented hundreds of choral music programs in various venues on and off Cape Cod to inter-generational audiences. The group is currently directed by Joe Marchio, who is also a music professor and choral director at Cape Cod Community College, as well as conductor of Cantata 4 Ensemble, a vocal/instrumental group of professionals and students that specializes in Baroque music performance. The Chatham Chorale performs several concerts through the year.

Osterville based, SkyWatch is a Christian rock band - "combining the influences of rock, funk and blues" to bring the listener to a new level. The band performs monthly at the SkyWatch Coffee House in the First Congregational Church of Harwich, as well at various other venues. See them perform in the "Hearts Toward Haiti Benefit Concert" at Plymouth Memorial Hall on July 28!

Stage Door Canteen, Cape Cod's own world traveled big band, performs regularly at Liam Maguire's in Falmouth and the Trowbridge Tavern in Bourne. Dancing shoes are strongly suggested, as it is hard not to get up and dance to this highly versatile band as they play a variety of big band, swing, jazz and even Mowtown hits.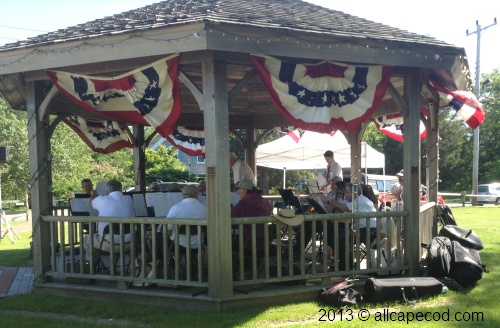 Several Cape Cod towns host weekly summer band concerts - offering an evening of music that includes Broadway tunes, jazz, big band, classical, pop, marching band tunes and more from Town Bands and other invited performers. Most, if not all, are outdoors in parks, schools or waterfront settings, and are open to the general public. Pack a picnic basket, toss some folding chairs or a blanket in the car, and join your family and friends for an evening of toe-tapping fun at any of these family friendly free! summer concerts.

Cape Cod & Martha's Vineyard are home to 3 'a cappella' groups, comprised of talented college students from all over the nation who come together to sing from June through mid August (while enjoying the Cape Cod summer...). Cape Harmony is Cape Cod's premiere all-female a cappella group; hear them weekly Tuesdays, Wednesdays, Thursdays and Fridays. The Hyannis Sound, Cape Cod's all male group since 1994, have weekly gigs on Mondays, Tuesdays, Thursdays and Fridays. Last, but certainly not least, Vineyard Sound, an all male college group now in its 21st season, performs weekly shows around Martha's Vineyard on Mondays, Tuesdays, Thursdays and Fridays. These a cappella groups perform primarily indoors at churches, but do perform at some outdoor venues. In addition to regularly scheduled weekly performances, there are many special appearances. Visit their websites for complete performance schedules.

Summer Thursdays are "Cool Jazz Nights" on Main Street, sponsored by The Hyannis Main Street Business Improvement District. Stroll along Main Street and listen to the Hyannis Jazz Ensemble Quartet from 7:00 to 9:00 PM every Thursday through August 15. No need to bring your own chair or blanket, as free seating is provided outside on the lawn in front of Palio Pizzeria. Also, as an added attraction, the Hyannis Jazz Ensemble Trio will perform outside at a different Main Street busisness each week - stroll along Main Street and enjoy the music.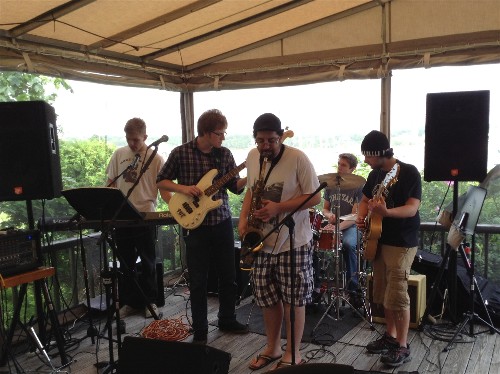 The Pearl at Wellfleet Harbor is host to family friendly "Fresh Music Live Seafood Happy Hours" with LIVE local musicians every day of the week from 3:00 to 5:00 PM. Well known singers and bands include Sarah Burrill, Brian Sances, Grab Brothers, Jeff Lowe, Toast & Jam, as well as Technicolor Motor Home -Cape Cod's youngest professional cover band.

Prefer the beat of a different drummer? Check out Cape Cod African Dance & Drum's summer dance classes, Fridays 6:00 PM at the band shell on the Hyannis Village Green. Join the dancers or just sit, watch, and enjoy the rhythm of the live drummers.

Thanks to our local talent and sponsors like Cape Cod Five, Citizens Bank, TD Bank, our local businesses, recreation departments and chambers of commerce, there is live music almost every night of the week during the summer months! Please support the businesses and establishments that feature and promote local musicians.