It's not too late to make plans to say good-bye to 2013 and ring in the New Year 2014. Several
local restaurants
offer celebrations complete with dinner, live music and dancing. Beware, reservations are strongly suggested for those dining out New Years Eve. Looking for something livelier? Cape Cod's biggest family celebration is
First Night Chatham
, an annual tradition of celebrating the arts in Chatham on New Years Eve.
This year's New Years's theme is "
Roll Out the Red Carpet!
" as the Orpheum Theater, offering afternoon and evening performances, joins the list of venues this year. With programs for kids and teens, as well as adults, First Night Chatham promises a fun, alcohol-free town-wide celebration with something for all.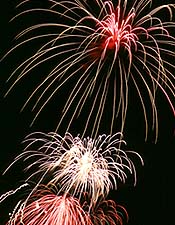 Starting early afternoon,
For Kids
activities and entertainment include Cirque du Jour, indoor miniature golf, face painting, puppets, horse and buggy rides, magicians, music, dance & song, train displays, a noise parade with early low level fireworks and much too much too mention here! Adults will want to check out the extensive list of
entertainers
including Cape Cod Opera, All-Worn-Out Jug Band, Colum Cille Pipes and Drums, The Dreamers Big Band, Chatham Chorale, Cape Cod Symphony Brass Quintet, Saltwater Jazz and once again way too much to mention here!!! The Count Down to the New Year Cod Drop and fireworks at midnight over Oyster pond welcomes in 2014!
First Night Sandwich
, themed "Light up the Town", offers a family-friendly, non-alcoholic community celebration of the arts and culture. Activities and entertainment including several local bands and musicians (- Ellis Family Singers, Brian Sances Band, The Familiars, Turtleback, and more...), ice carvings, a First Night Festival Parade and Grand Finale Countdown run from 4:00 to 9:00 PM in Sandwich Village.
Cape Cod Enchanted Village
at the Cape Codder Resort and Spa will remain lit through January 2. Over 100,000 lights, animated reindeer, dancing snowmen and more! Santa won't be there as he is now taking a much deserved rest - but the lights and displays will still dazzle.
Those celebrating the New Year on the Island of Nantucket, will want to check out
Nantucket New Year's Calender Of Events
for events running from Saturday through Wednesday.
Mass Audubon
's Felix Neck Wildlife Sanctuary in Edgartown is hosting a "First Day Walk" on Jan 1 from 10:30 to 11:30 AM. Start the New Year outdoors! This event is suitable for all ages; registration is not required - gather the whole family and just show up!
And of course, what is New Year's with out a list of resolutions? So, in addition to the usual slew of good intentions (lose weight, get in shape, eat healthy and drink more water, stay in touch with old friends, attend cultural events, clean the house, etc...) quickly discarded without a plan by the end of January, here's our goals for 2014...
Take the plunge! The Polar Plunge that is. Swimmers can hit the water on January 1 in Barnstable, Harwich, Yarmouth and Wareham to prove bravery while supporting good causes!
Be kind to myself! Get a massage regularly. Get healthier, while having fun (& making a fool of myself) with exercise like Zumba! YMCA Cape Cod and several of the local dance schools offer regular Zumba classes, but for the most fun (& humiliation) participate in a charity Zumbathon!

Support local business! Help Cape Cod's economy by staying away from the chains - buy, eat and drink local! For help selecting a restaurant see our Cape Cod Dining favorites. For a local brew, try Cape Cod Beer and Cape Cod Winery. Eat more locally made ice-cream. Tune into and support local radio - NPR's WCAI, WOMR/WFMR community radio and WMVY.

Donate to those less fortunate! Simplify, de-clutter and organize the house at the same time. Time to part with all those unused kitchen gadgets and Tupperware containers. The kids are grown - get rid of the toy box, the VCR tapes and video games and reclaim the family room. Really clean out those closets too - who needs more than shorts, tees and flip flops on Cape Cod? When in doubt, donate! Can always support the local business and buy more later...

Purchase tickets in advance! Make a commitment in advance to attend cultural events instead of being disappointed when events are sold out the day before. Missed the Christmas Spectacular again this year? The music continues, as Cape Cod Symphony still has 5 concerts remaining in the 2013-14 schedule. Several local theater groups perform year-round. The Cape Cod Melody Tent and the Cape Playhouse will soon be announcing their summer lineups. Make plans with friends and buy tickets early.

Turn off the TV! Instead, visit the local library and check out a good book. Sign up for a class at Cape Cod Community College. The Cultural Center of Cape Cod offers concerts, classes & workshops, art exhibits and more! Anyone for Ballroom Dance lessons?

Recycle! Plan ahead for the Town of Barnstable's Styrofoam Recycling Event: Set aside the packing blocks from holiday gifts; keep a box in the car and think before tossing those Dunkin Donuts cups and fast food containers; rinse and bag foam egg cartons, produce and meat trays! Then head to the Barnstable Transfer Station (ie. the dump!) on January 11. Note: The event, sponsored by the Cape Cod Cooperative Extension and The Town of Barnstable, is open to all Cape Cod residents.

Clean the air I breathe! Encourage loved ones, friends and relatives to finally Quit Smoking!
Happy New Year! from All of Us at AllCapeCod.com